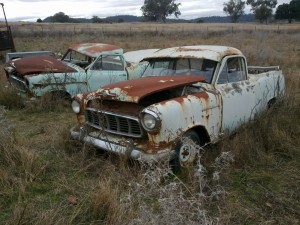 With General Motors announcing the last Holden will roll off the line in Australia by 2016, there are a number of defendants who could be called to answer to the charge: Who Killed the Golden Goose That Used to Be Holden?
I'll answer your first question first: It wasn't General Motors Australia, who would happily continue making Holdens if the stars were aligned differently—or General Motors America who in those benevolent starry-eyed circumstances would be more than happy to let them.
So who's responsible for shifting the stars?
First in line are Australians: Most fundamentally it was Australian consumers who killed Holden when they stopped buying their shitty cars. It might be an "iconic Australian company" according to sundry business and no-business journalists across the great sunburnt land, but Australians themselves stopped buying Holdens many years before the subsidy per car reached the tens of thousands it is now.
Whatever they tell surveyors holding clipboards, Australians in large numbers buy other cars instead of Holdens. So if they want someone to blame for Holden's demise, they could start by looking at themselves.
Second in line is the Australian governments that Australians vote for in their droves: not because this one elected to stop subsidising this inveterate corporate bludger, but because for decades every Australian government has denuded by usurious taxes the capital this company and others needed to reinvest to keep it ahead of its competition (pouring this stolen money mostly into various welfare black holes instead of putting it to any productive purpose),1 and because for decades it gave Australian unions the right to terrorise this and every other Australian producer, disregarding that the golden goose they thought could be plucked forever could not.
In this respect Holden is every Australian producer writ large. (And this goes for NZ producers as well, take not.)
So third in line is the unions: It was Australian unions who helped kill Holden…
…the unions and their enterprise bargaining over many years that has made their own members unemployed. The cost of wages is more than double what it should be.
    It was a great effort by the unions to achieve high pay rates, but now there are no jobs. Any Australian who does not recognise the truth is sadly deficient in reasoning ability.
    Australian car manufacturing labour costs are reportedly twice as high as in Europe and four times as high as in Asia. Nobody wants Australian workers earning Asian wages but productivity isn't just about wages.
    Maritime workers famously insisted Australia's waterfront could never match Singapore's best practice regarding container movements per hour - until the stevedores were all sacked, replaced with novices and eventually rehired with a refreshed commitment to the job.
    Better workplace processes lead to superior output and, therefore, increased productivity without sacrificing wages.
So between losing the capital to reinvest (stolen by government) and losing the ability to improve workplace processes (stolen from them by short-sighted trades union leaders pro-union legislation empowering unions to oppose them)
 What George Reisman wrote about parent company General Motors in America could be repeated virtually word for word about General Motors in Australia. So I will (for UAW just read AMWU, and divide gross numbers involved by the ratio of the different populations):
What the UAW has done, on the foundation of coercive, interventionist labour legislation, is bring a once-great company to its knees. It has done this by a process of forcing one obligation after another upon the company, while at the same time, through its work rules, featherbedding practices, hostility to labour-saving advances, and outlandish pay scales, doing practically everything in its power to make it impossible for the company to meet those obligations…
    First, the company would be without so-called Monday-morning automobiles. That is, automobiles poorly made for no other reason than because they happened to be made on a day when too few workers showed up, or too few showed up sober, to do the jobs they were paid to do. Without the UAW, General Motors would simply have fired such workers and replaced them with ones who would do the jobs they were paid to do. And so, without the UAW, GM would have produced more reliable, higher quality cars, had a better reputation for quality, and correspondingly greater sales volume to go with it. Why didn't they do this? Because with the UAW, such action by GM would merely have provoked work stoppages and strikes, with no prospect that the UAW would be displaced or that anything would be better after the strikes…
    Second, without the UAW, GM would have been free to produce in the most-efficient, lowest cost way and to introduce improvements in efficiency as rapidly as possible. Sometimes this would have meant simply having one or two workers on the spot do a variety of simple jobs that needed doing, without having to call in half a dozen different workers each belonging to a different union job classification and having to pay that much more to get the job done. At other times, it would have meant just going ahead and introducing an advance, such as the use of robots, without protracted negotiations with the UAW resulting in the need to create phony jobs for workers to do (and to be paid for doing) that were simply not necessary…
    Third, without the UAW, GM would have an average unit cost per automobile close to that of non-union Toyota…
    Fourth, without the UAW, [Holden workers would not need to be subsidised to the tune of $50,000 per worker], which is where it is today, according to [Grace Collier in today's Australian].
    Fifth, as a result of UAW coercion and extortion, GM has lost billions upon billions of dollars. For 2005 alone, it reported a loss in excess of $10 billion. Its bonds are now rated as "junk," that is, below, investment grade. Without the UAW, GM would not have lost these billions.
    Sixth, without the UAW, GM would not now be in process of attempting to pay a ransom to its UAW workers of up to $140,000 per man, just to get them to quit and take their hands out of its pockets…
    Eighth, without the UAW, GM would not now have pension obligations which, if entered on its balance sheet in accordance with the rule now being proposed by the Financial Accounting Standards Board, will leave it with a net worth of minus $16 billion…
    Ninth, without the UAW tens of thousands of workers — its own members — would not now be faced with the loss of pension and healthcare benefits that it is impossible for GM or any of the other auto companies to provide, and never was possible for them to provide. The UAW, the whole labor-union movement, and the left-"liberal" intellectual establishment, which is their father and mother, are responsible for foisting on the public and on the average working man and woman a fantasy land of imaginary Demons (big business and the rich) and of saintly Good Fairies (politicians, government officials, and union leaders). In this fantasy-land, the Good Fairies supposedly have the power to wring unlimited free benefits from the Demons.
    Tenth, Without the UAW and its fantasy-land mentality, autoworkers would have been motivated to save out of wages actually paid to them, and to provide for their future by means of by and large reasonable investments of those savings — investments with some measure of diversification. Instead, like small children, lured by the prospect of free candy from a stranger, they have been led to a very bad end. They thought they would receive endless free golden eggs from a goose they were doing everything possible to maim and finally kill, and now they're about to learn that the eggs just aren't there.
    It's very sad to watch an innocent human being suffer. It's dreadful to contemplate anyone's life being ruined. It's dreadful to contemplate even an imbecile's falling off a cliff or down a well. But the union members, their union leaders, the politicians who catered to them, the journalists, the writers, and the professors who provided the intellectual and cultural environment in which this calamity could take place — none of them were imbeciles. They all could have and should have known better.
    What is happening is cruel justice, imposed by a reality that wilfully ignorant people thought they could choose to ignore as long as it suited them: the reality that prosperity comes from the making of goods, not the making of work; that it comes from the doing of work, not from the shirking of it; that it comes from machines and methods of production that save labour, not the combating of those machines and methods; that it comes from the earning and reinvestment of profits not from seizure of those profits for the benefit of idlers, who do all they can to prevent the profits from being earned in the first place.
Now, it's said that the government should nonetheless continue subsidising this losing proposition in order to "keep Australian jobs." But the fact is, they've killed this golden goose and reincarnation on present lines is not possible.
The good news however is that all the capital now tied up in manufacturing and aftermarket work hasn't disappeared. It's all there and waiting for entrepreneurs and investors to put it to more productive use.
Just as long as governments and trade union leaders let them.
Here's Tenpole Tudor.
1. On this point, the intelligent reader might like to enjoy George Reisman's "Anti-Obamanomics: Why Everyone Should Be in Favor of Reducing Taxes on the "Rich""