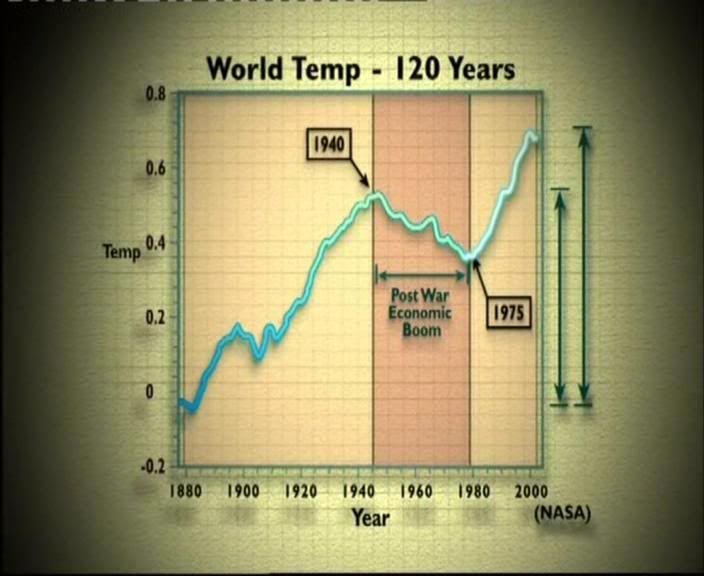 THE GREAT GLOBAL WARMING SWINDLE
is a wonderfully concise presentation of the issues around global warning -- the errors in the warmists' science; the claim that all warming is 'man-made' warming, and all scientists are in agreement; some possible explanations for natural causes; the politics behind the warmists' hysteria.
It's presented as the antidote to Al Bore's slick slideshow, and it sure as hell works.
Let's have a look at some of warmists' errors as highlighted in the film:
There has been no warming since 1998.
CO2 is not a pollutant -- indeed, it is what makes plants grow.
Most warming in the last 120 years took place before 1940 -- that is, before modern industrialisation took place before, and certainly well before the vast bulk of human CO2 emissions began (see pic above).
There is contrary evidence from 1940-75, when human CO2 production really began in earnest, and temperatures went down
There is no evidence that advanced global warming would be detrimental -- indeed there is much evidence that it would be beneficial.
There is no evidence that the upper atmosphere is warming, which is where the warmists' models say it shoud be.
There is no evidence, none at all, that global warming is man-made, and certainly not with the mechanism for warming that is frequently cited by the warmists.
CO2 is not even the primary greenhouse gas. That prize goes to water vapour, which contributes a massive
95%
of beneficial warming, which reponds more to the sun and cosmic rays than to any human infuence. CO2 only makes up 3.5% of earth's greenhouse gases, and
just a tiny 3% of that CO2
is attiributable to humans. The rest is all nature's work: Volcanoes. Rotting leaves. Animals. Add that up and human-induced greenhouse warming is an almost negligible 0.12% of all warming.
And the earth needs to warm, it needs its greenhouse gases; without it we'd all be dead.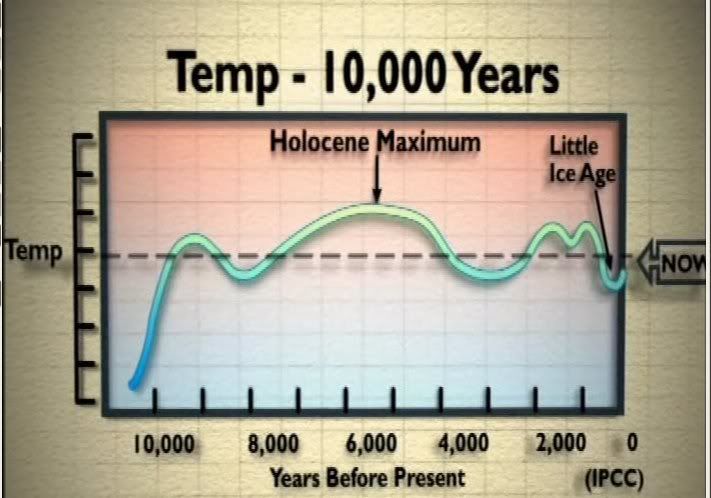 The earth has been warmer, much warmier than it is at present -- in the Mediaeval Warm Period for example, when all those cathedrals were built; and right back too in the Holocene era when it was several degrees warmer -- and the polar bears didn't die then either.
In fact, temperature trends for the past 15,000 years include 10 large swings,
including the Mediaeval Warm Period. These shifts were up to "20 times greater than the warming in the past century."
The warmists say that CO2 causes warming. If that's so, there's no evidence in the history. Never in recorded history has a rise in CO2 preceded warming. For good reasons, mainly to do with the oceans, it has always and everywhere
followed
warming, with a time lag of some eight-hundred years (see below left). There is no evidence that fundamental relationship has changed, despite the slick sleight-of-hand performed by Al Bore's slides.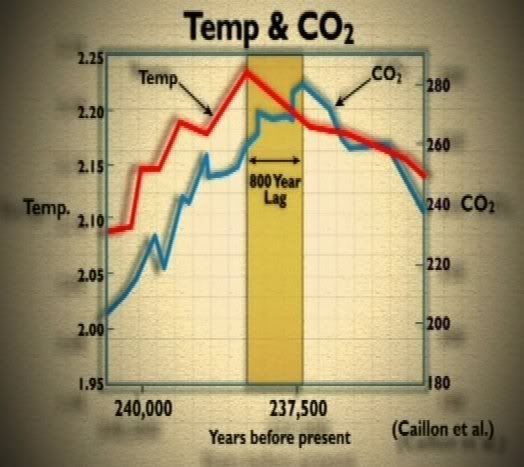 And what of the claim that global warming exacerbates extreme weather events? Not so, says Richard Lindzen, who points out that the primary driver of weather events is the temperature gradient between the hot mid latidudes and the freezing poles. And what do you think happens if this difference is made
smaller
? You'll forgive me if I don't offer the person who answers correctly a chocolate fish.
Anybody who actually looks at the science and still takes the warmist hysteria seriously is really not seeing the forest, and may be looking too hard at the wrong trees, argues the film.
WHAT MAKES THE PLANET warm? The sun.
So what does the film suggest is making the planet get warm
er
? Yep. The sun. Sun activity provides a way better 'fit' with the temperature record says the film's scientists, and without that nasty eight-hundred year time lag that Al Bore glosses over. Note that it' s not incumbent upon skeptics to explain the cause of the recorded warming -- that is, the observed rise in the temperature record from 1975 to 1998. Nonetheless, the film makers offer a compelling answer.
MARCUS HAS MORE ON the film here
. For a reasoned summary of objections to the film, Frogblog has the team at Real Climate, and former IPCC assessment committee co-chairman James Houghton doing his bit for his science (in two parts,
here
and
here
). Careful of the spin. For example, you will note that Houghton's story about Paul Reiter fails to tell the whole truth. It is not
what Reiter himself reports
, and indeed not what he reported in the film. Reiter wasn't upset that "his expert work on malaria failed to get recognition in the relevant IPCC chapter," as Houghton claims.
In fact, he was apoplectic because the chapter summary to which he had contributed was dead against the science; that it was written behind his back by non-experts, and released in a high-profile press conference to which he wasn't invited, and he had to resort to legal action to get his name removed from what he called "a sham." His later non-inclusion from the IPCC panel (despite nomination as a lead author by the US Government) in favour of non-experts speaks more of an attempt to manufacture a consensus than it does about science -- as Christopher Monckton describes it, "the panel vetoed his appointment because they knew he disagreed with the alarmist view that they were determined to purvey."