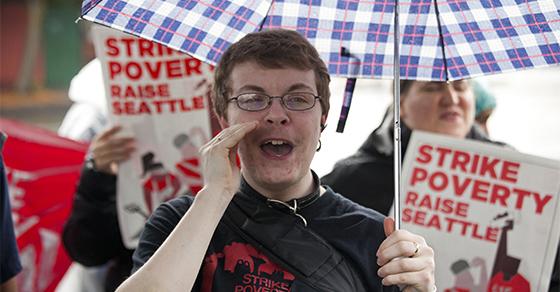 Well, they wanted, they demanded it, they marched for, and they got it. Good and hard.
Seattle's minimum wage law takes effect April 1st, and it's already leading to closures and job losses.
Who knew?
More accurately, who didn't know—which was everyone who wanted it, demanded it, and marched for it and who denied in doing so raising the supply price of employees would have any negative effect on the number of employees demanded.
No wonder they're so confused now by the closures and job losses, because they'd been told by their intellectual leaders that to wish it were so was sufficient; that to pass a law of the legislature would be enough to overrule a law of economics; that to control the narrative was enough, just do so and everyone would be laughing.
But they're not laughing now in Seattle, are they.
They're learning that reality is not to be denied.
That in any contest between reality and "the narrative," it is always reality that has the final say.
That to raise real wages requires more than just raising a pen to repeal a law of economics, it requires the economic progress their new law has just made much harder.
At least, that's what they should be learning of they're not already so crippled by the postmodern economics taught them by their intellectual leaders.