The OECD has released a new report suggesting the most unaffordable housing market in the developed world, measured as a proportion of both wages and rents, is our own. Little old New Zealand. See: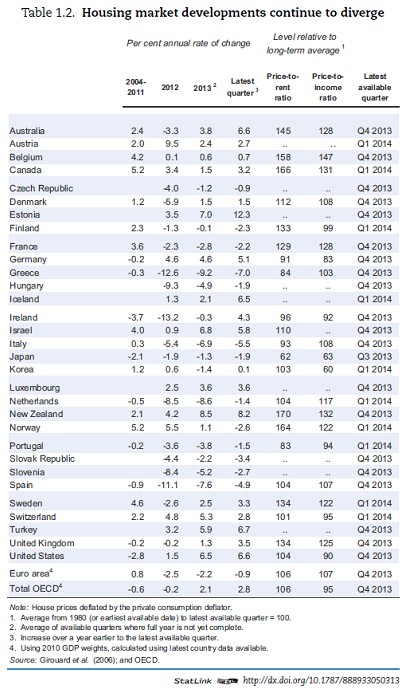 In an election year this news there is a clearly evident housing crisis is about as welcome to the Prime Minister as a fart in an astronaut suit.  His response:  Crisis, what crisis?
"Well, it's not a crisis. A crisis would be one to indicate that you couldn't buy a home, well that's not true – there are houses in quite a wide range of prices – if you go on to Trade Me now and have a look at say houses say for $350,000 or less in Auckland and quite a large number of listings will come up.1
So there's no crisis, and the researchers are wrong.
This is puzzling, since his own Deputy Prime Minister Bill English wrote in the foreword of the 2013 international Demographia survey, released in January last year, that:
Last year's New Zealand Productivity Commission report on housing affordability, relying in part on Demographia affordability data, showed a substantial worsening in housing affordability in New Zealand in the last thirty years. … We may be seeing the beginning of a repeat of the mid-2000s demand shock.
Despite a lot of noise in the fourteen months since then, little has changed to alter the figures of the 2013. If anything, things have only got worse since then.
So, the Deputy Prime Minister at least appears to realise we have a problem. His boss, however …
---
1. Actually, do the exercise and you discover you can't filter for $350k. But I can tell you that across the Greater Auckland area, a city of nearly1.5 million people, there are presently 373 houses available for sale on TradeMe at a price of less than $300k, and 924 for sale at $400k or less. And that's with several gallery items included above those prices.