THE SECOND COMING
Turning and turning in the widening gyre
The falcon cannot hear the falconer;
Things fall apart; the centre cannot hold;
Mere anarchy is loosed upon the world...
- W.B. Yeats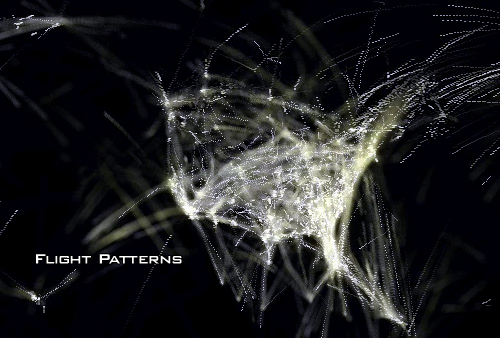 People often talk as if the
Law of Entropy
somehow restricts human activity, or is a restraint on human free will. The idea, for example, that "even if human ingenuity is infinite,
entropy
may eventually put an absolute limit on the amount of wealth that can be created." Things fall apart, you see, the centre cannot hold, and there's not a blind thing we can do about it.
This is both an error of scale -- with entropy happening on a universal rather than a human scale -- and a mis-application. It ignores the very nature of human activity and human free will, and ignores too the very simple observation that confirms there is order all around us. As the author of the book
Sync : The Emerging Science of Spontaneous Order
says:
Scientists have often been baffled by the existence of spontaneous order in the universe. The laws of thermodynamics seem to dictate the opposite, that nature should inexorably degenerate toward a state of greater disorder, greater entropy. Yet all around us we see magnificent structures—galaxies, cells, ecosystems, human beings—that have all somehow managed to assemble themselves.
The phenomenon of spontaneous order is often cited as one of the two or three most non-intuitive notion of
economics
-- see if you can guess the others -- but the free application of human ingenuity in a division of labour system is one such example of
spontaneous order
in action. Tim Harford describes it succinctly in
The Undercover Economist
as an order that "emerges out of the behavior of individuals even though it is not anyone's intention to promote the overall order."
Why am I telling you this? Because the
chaps over at Cafe Hayek
have spotted a beautiful example of spontaneous order in full and graphic action: a visual representation of air traffic in the United States over the course of the day. Watch as mainland USA and Hawaii are slowly 'painted in' by the 'spontaneous' travels of individual flights.
Click here to go see the Quick Time movie
. As they say at Cafe Hayek, what looks random slowly emerges as a most developed kind of 'un-planned' order -- unplanned that is by any
central
planning. "The flights around the country aren't random. They spring out of population density and the routes people want to travel. These are the source of the order and its visual representation."
Spontaneous order. It's a wonderful thing, and perhaps the best answer to both mis-applying 'entropists' and would-be central planners.
LINKS:
The recent revival of spontaneous order
- Economics Library
Flight Patterns
- Aaron Koblin at UCLA
The nature of the order
- Cafe Hayek
Sync : The Emerging Science of Spontaneous Order
- Stephen Strogatz, Amazon. Com
The Undercover Economist
- Tim Harford, Amazon.Com
RELATED: Economics, Ethics, Philosophy, Science