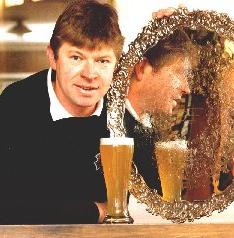 This week, Neil sneaks into Stu's dark beer territory with his review of Emerson's new Bourbon Porter – and where does he find those early 90s pictures of Richard?
Brewer Richard Emerson (pictured right) once declared that he intended to make just three beers in his standard range which would be supplemented with one seasonal release.
He proved way too innovative to stick to that. His big new Emerson's brewery in Dunedin currently makes eight beers in his standard range, plus two seasonal beers and two further limited editions every year.
His latest offering is Emerson's Bourbon Porter. For many years, Richard had a made a whisky porter, a rich, dark beer matured in used whisky barrels from the long-defunct Wilson's distillery.
Wilson's will be remember by those of us unlucky enough to taste it as a poor whisky – but the barrels did impart some amazing flavours to the beer.
Given the distillery had gone out of production nearly a decade ago, it was clear the barrel supply would not last forever. When the barrels ran out a few years ago, many thought that was the end of Richard's fortified porters.
Not so. Armed with his natural cunning, Richard sourced a dozen used bourbon casks and his London porter has been quietly aging in them for 9 months before being released on an unsuspecting public on 1 July.
This limited release beer pours a rich, dark colour and throws a nose which has a touch of coffee and hints of bourbon and vanilla. In the mouth there is a mix of dark roasted coffee, toast, vanilla and bourbon sweetness. This is a powerful but balanced beer.
At 9.2% abv this is definitely a sipper – not a quaffer.
Perhaps the best description of it came from a young Australian gentlemen at one of my recent beer tastings:
"Mate, I like beer. I like bourbon. This beer is going to save me so much time at the bar."
Indeed.
LINKS: Emerson's – www.emersons.co.nz
Beer tasting – www.backbencher.co.nz
RELATED: Beer and Elsewhere