"To a figurative painter/sculptor and to postmodern artist, pushing the boundaries means
two completely opposite things: to a figurative artist it means to advance art by creating
new developments that add to the long line of accomplished artists through history. To a
postmodern artist it means to shock us even if that involves destroying the very nature of art..."
- quoted in Michael Newberry's, "Pandora's Box,Part 1"
What's next for new artists hoping to shock a jaded bourgeoisie? Stephen Hicks has been saying for some time that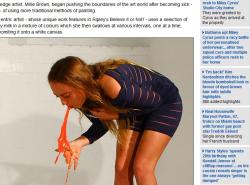 the world is ready for the bold new artistic move. That can come only from those not content with spotting the latest trivial variation on current themes. It can come only from those whose idea of boldness is not — waiting to see what can be done with waste products that has never been done before.
   I was wrong to despair [he says now]. For as this loving spread in Britain's Daily Mails hows, Millie Brown has spewed new life into a played-out line of development:
     'Vomit Painter artist throws up on canvas to create Jackson
      Pollock-style splatter…'
I feared that the pomo gross-outs were no longer grossing us out, but this is really gross! And that, by postmodern standards, is true progress.
    Yet I suggest, gently, that perhaps Ms. Brown has only set the door ajar — and that the rest of us in the art world should boldly shove it open and stride through.
    I bring up three possibilities…
Read on, aspiring pomos, for what could be your next career-defining move.