/
Battle lines have been drawn, on the housing front, to be the country's most racist party. 
Taxpayer-funded houses for Maori only, says Hone's racist Mana party. No, no, says Tariana and Pita's racist Maori Party, that's our policy. John Key, meanwhile, is "relaxed." What does he care?
Mana Party unveils policy for Maori first-time home buyers that would see the state provide low interest, no-deposit loans, with 10,000 new state houses a year – INTEREST.CO.NZ
The reaction against stone-age wailing in classrooms has finally begun.
Teachers against karakia – NZ HERALD
Lindsay Mitchell recalls all the many achievements of Peter Dunne. "Having begun his 30-year career in the Labour Party, Dunne has since pimped himself all over the show… There's little else of note."
Remembering Peter Dunne – LINDSAY MITCHELL
Nothing would have been, says Mark Hubbard. "Peter Dunne did something much worse than nothing: he presided through two governments over the loss of the Westminster Principle: in terms of our freedom, there's not many ministers who've done more harm than that."
The Minister of Taking Departs Stage Left – Mark Hubbard, LIFE BEHIND THE IRON DRAPE
The Westminster Principle in Taxation: It's What the ANZAC's Were Fighting For – Mark Hubbard, LIFE BEHIND THE IRON DRAPE
So the left-wing opposition parties held an inquiry into manufacturing in NZ. And ended up recommending lowering real wages. Magic.
Inquiry suggests lower wages and taxpayers taking on firm risk – TVHE
Brennan McDonald chalks up the Labour/Green manufacturing conclusions to rent-seeking. Oh, and economic ignorance.
Economic Ignorance And The 4 Biases (Manufacturing Edition) – REALITY BASED ANALYSIS
Yes, it happened. Yes, you read the headline right.
Ladyboys versus All Blacks: is this the world's weirdest sport? – THE AGE
So, you keep telling me these state-owned firms are so frickin' awful. So, tell me again why you want so many state-owned firms?
The problem of SOEs – Idiot/Savant, NO RIGHT TURN
Recent comments here at NOT PC have touched on the abuses that happen when government and business cooperate. Here's a belated obituary for James Buchanan, the theorist who earned a Nobel Prize for explaining and cataloguing those abuses.
Political Economy Obituaries: James Buchanan – THE MONKEY CAGE
For reasons of abject puritanism, Wellington City Council has set out to ensure some Wellington property owners can make super-profits at the expense of the enjoyment of Wellington night life.
Local rent creation: alcohol edition – Eric Crampton, OFFSETTING BEHAVIOUR
Yet another survey showing that, overall, women earn less than men. There IS NO "pay parity" issue, of course….The difference between earnings between women and men is due almost entirely to one thing and one thing only…
Hidden Cost – MACDOCTOR
"I can't see how this can end well for New Zealanders, who already hold a disproportionate amount of their wealth in housing…"
Auckland: Anatomy of a housing bubble – Leith Van Onselen, MACROBUSINESS.COM.AU
"If someone asked you how much of New Zealand was built upon, what would your guess be? 5% or 10%? More? Less? And to what extent would this affect your views on urban development and expansion?"
Are we running out of land? – Luke Malpass, INSIGHTS
With the Green Party, it's frequently hard to tell the serious from the satire.
Printing counterfeit money probably not the best idea, admits Green Party – THE CIVILIAN
The Sopranos James Gandolfini has died.
But that still doesn't make The Sopranos worth watching.
What is it with "The Sopranos"? – Tibor Machan, YUMA SUN
So with $1.5 billion (plus cock-ups) being spent on a Key Government flagship policy, turns out only 2.9 percent of NZers really want the state's ultra-fast broadband.
Slowly into the future with UFB – NZ HERALD
Since watching movies and TV shows is one of the main reasons households would sign up to fibre, what do Netflix economics look like?
Arrested economics: Assessing Netflix's original content business – IVEY BUSINESS
Maybe it's a media model for the Rugby Union?
AFL Media - a behemoth is born – AUSTRALIAN FOOTBALL
She's right, you know. Let's roll out the refugee red carpet.
Grim precedent pulls plug on our human rights standing – Tracy Barnett, NZ HERALD
In which I put some of the "blame for the housing bubble" at the feet of the Reserve Bank. And Matt Nolan tells me to pull my head in.
House price inflation: a bubble in need of a pin – NOT PC
Interpreting a (monetary) quantity – we need a cause – Matt Nolan, TVHE
Do the NSA Slow Jam…
"An administration under fire over covert wiretapping, whistleblowers hailed as heroes and lambasted as traitors, a president's reputation on the line … You could be excused for detecting a whiff of Nixon-era sulphur in the US political atmosphere these days… It's an opportune moment, therefore, to re-examine the surveillance culture of the Nixon administration."
Nixon's White House – caught on Super 8 – HISTORY NEWS NETWORK
We see you Big Brother.
You probably didn't read the most telling part of Orwell's "1984″—the appendix – Laura Frost, QUARTZ
Should we welcome an Orwellian Big Brother state as long as we are "protected from terrorism?"  The answer is an emphatic "No!"
Regarding the NSA Spying Scandal: "Thwarting Terrorism" is Not a Valid Justification for Violating Rights – Doug Reich, RATIONAL CAPITALIST
"NSA's excuse for snooping on innocent citizens — namely, that it can prevent serious harm to us, might even save lives — is spurious. If you incarcerated us all, that, too, might do all that.
"Free men and women are, of course, capable of violence, even murder, but unless it is proven that they are embarking on these, unless the burden of proof is fully met, they must be left free. The job of protecting the citizenry must be carried out without violating their rights. That is the spirit behind constitutional government, especially the American Bill of Rights."
The Evil of Prior Restraint – Tibor Machan, TIBOR'S SPACE
The dangers of the surveillance state.
Insubordination and the surveillance state – Chris Bertram, CROOKED TIMBER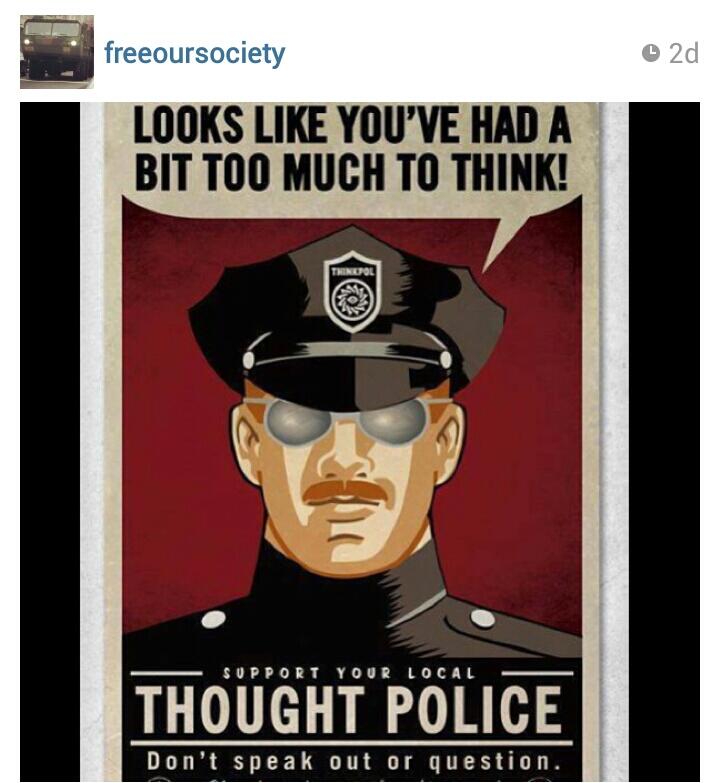 Fortunately, here in New Zealand we've got nothing to worry about. Nothing to worry about at all. Uh, hang on…
Papers reveal 'vast expansion' of GCSB powers – RADIO NZ
The GCSB Bill [17 min. AUDIO] – RADIO NZ
An admission from the GCSB – Idiot/Savant, NO RIGHT TURN
"Dwight Eisenhower is an underrated president, especially when it comes to understanding the ways in which national security issues often provide cover for violations of basic liberties and fiscal sanity."
Why We Should All Like Ike: He Predicted the Godawful World in Which We Live
– HIT & RUN
Sexy Sasha Grey wants YOU to work for the NSA.  It has fringe benefits…
They had to cut heavily to make it just ten.
10 Reasons why Man-Made Global Warming is Wrong. – Cohenite, CLIMATE SCEPTIC PARTY
The inconvenient truth: carbon dioxide goes up, and temperature goes down. HadCRUT data confirms #GlobalCooling trend since 1998 of -0.08°/cent.
Burt Rutan: 'This says it all and says it clear' – WATTS UP WUTH THAT
Time for some global warming satire.
Hump day hilarity: Big Kahuna Warmy – WATTS UP WITH THAT
Bill McKibben is in New Zealand. And Bill McKibben is impossible to satirise.
Bill McKibben: Energy Enemy Number One – Alex Epstein, MASTER RESOURCE
"Why is Social Security a 'third rail' of politics, too popular even to tinker with? In part because of a powerful myth—one that has evolved over the years to explain why Social Security was created and who created it. Here's the Social Security Myth…"
The Social Security Myth - Part 1 – Don Watkins, LAISSEZ FAIRE 
The Social Security Myth - Part 2 – Don Watkins, LAISSEZ FAIRE 
The Social Security Myth - Part 3 – Don Watkins, LAISSEZ FAIRE
Has Sarah Palin turned into a libertarian? Here's the spoiler: No.
Nostalgia Act: The Great Sarah Palin Revival Tour of 2013 – Nick Gillespie, DAILY BEAST
First, they came for the tobacco smokers…
Tobacco Control Tactics – E-Cig Version – DICK PUDDLECOTE
Regulatory capture, Big Pharma and the FDA – a one-hundred minute debate that's worth 100 minutes of your time. "The Food and Drug Administration, the oldest comprehensive consumer protection agency in the U.S. federal government, is charged with protecting the public health. Under this mandate, it regulates drugs and medical devices for their safety and effectiveness. But is it a failing mandate? It's long been argued that the FDA's long and costly approval processes stifle innovation and keep life-changing treatments from the market. But the question remains: when it comes to public health, is it ever okay to sacrifice safety for speed?"
Do you know how many decent, compact histories there are of the classical American gold standard? Go on, guess.
Turns out, up until this week, there were none.  Here's the first.
The Rise and Fall of the Gold Standard [24-page PDF] – George Selgin, CATO
It had to happen.
Bitcoin In IRS Crosshairs – FORBES
"Those bullish on China growth prospects need to reconsider."
China Manufacturing PMI Hits Nine-Month Low as Output and New Orders Decline – Mish Shedlock
The end of the commodities boom will effect our closest neighbour more than most.  What really matters for productivity growth now? Former head of the Productivity Commission, Gary Banks, lays it out. Eric Crampton reviews.
Forty-three ways to boost productivity – BUSINESS SPECTATOR
Morning roundup – Eric Crampton, OFFSETTING BEHAVIOUR
The benefits of free trade to the world, especially developing countries are still nonetheless enormous.  Bjorn Lomborg understands that. Do you?
Lomborg on the benefits of free trade – KIWIBLOG
Here's a simple way to privatise: just give stuff back.
Stephen Hester's departure highlights pressing need for RBS re-privatisation – James Barty, CITY A.M.
Let's not delude ourselves that immigration's always bad news. 
The truth about immigration: it's good for Britain. – Gavin Barwell, MP, THE TELEGRAPH
He's right you know.
Socialism Is a Destructive Philosophy [49 min. AUDIO INTERVIEW] – AYN RAND CENTER
So, why use the word "selfish" as a virtue?
Oh great. So he's learned nothing at all from recent history, then.
Obama gives $300 million more to the Syrian jihadists – Robert Spencer, JIHAD WATCH
These Are the Rebels We're Backing in Syria? – Cal Thomas, REAL CLEAR POLITICS
Who dares call it conspiracy?
Possible Poisoning- Al Qaeda weapons expert says U.S. ambassador to Libya killed by lethal injection – NC RENEGADE
Now We Know Why Obama Did Not Act in Benghazi – SCRP
Despite reports, it's about more than a bit of green space.  The country's Islamist party has been consolidating power.
Perspective on the protests in Turkey
– Jordan McGillis, VOICES FOR REASON
"The farm bills now before the American Congress attest, if nothing else, to the inertia of politics. There is no 'public interest' (a phrase often meaningless in Washington) in having government subsidize farmers.
Why (Sigh!) Farm Subsidies Survive – Robert Samuelson, REAL CLEAR POLITICS
"Assaults on free speech in academia are not new. As Ludwig von Mises pointed out seventy years ago, academic freedom in European universities meant freedom to teach and agree with the government's viewpoint… A recent survey, however, starkly demonstrates the silencing of dissent on US college campuses today: thirty percent of college seniors and less than twenty percent of faculty agree that it is safe to hold unpopular positions."
Challenging the New McCarthyism – JERRY KIRKPATRICK'S BLOG
Whither goes America, so goes the world.
How do you describe bad economics reporting? – 3 QUARKS DAILY
America is in unquestionable cultural decline. "It is getting ever harder to do business in the United States," argues historian Niall Ferguson in his new book , "and more stimulus won't help: Our institutions need fixing."
How America Lost Its Way – Niall Ferguson, WALL STREET JOURNAL
"The decline of America's institutions, and the related rise in red tape that hinders business, may spell the U.S.'s economic doom. Harvard's Niall Ferguson talks to WSJ's Charles Forelle about the theory outlined in his new book
The Great Degeneration.
Our planet is covered in scars so deep and magnificent they can be seen from space.  Here are just twelve.
12 Amazing Earth Scars – WORLD GEOGRAPHY
Could you pass a US citizenship test? Find out.
Could you pass a US citizenship test?
– CS MONITOR
"The problem with today's society is not political engagement, but political disengagement." Discuss.
The Apolitical Life Is Destroying America – Bill Quick, DAILY PUNDIT
Everything in Paris is political. Even its skyscrapers.
The politics of 12 new skyscrapers for Paris – ARCHINECT
In terms of technology , it's still the most exciting time to be alive!
Six Revolutionary Technology Trends for the Next 20 Years – MONEY MORNING AUSTRALIA
"This is just an amazing short documentary about the video taken of a successful crash landing of a reconnaissance pilot in World War 2," says Diana Hsieh. "These pilots flew into Germany to photograph sites… unarmed and unescorted. Wow!"
Samuel Morse sent the first telegram 144 years ago, and in that instant linked the world's people more than it they'd ever been. But soon, the last telegraph ever might be sent…
India to end state-run telegram service. Stop. – CS MONITOR
It's the most talked about scene in Ayn Rand's Fountainhead—about which the author said, "If it was rape, it was rape by engraved invitation."
The Fountainhead's 'Rape Scene': a Case Study of Consensual Non-Consent [spoiler alert] – Jason Stott, EROSOPHIA
"In order to get something done, you've got to love the doing," said Ayn Rand.  Latest report:
The Pursuit Of Happiness May Be A Recipe For Misery – BUSINESS INSIDER, AUSTRALIA
Here are some of the most astonishing examples of this city-scale art form, from around the world.
Giant Optical Illusions That Transform Buildings and Cities – io9.COM
"Computers help architects produce countless renderings for their clients and shorten lead times. But there's one big thing they can't do."
The ABCs of CAD — How Architectural Software Helps Homeowners, Too – Dylan Chappell, HOUZZ 
Who Needs 3-D Architectural Design? 5 Reasons You Do – Dylan Chappell, HOUZZ
A new old recipe could change modern building.
Ancient Roman Concrete Is About to Revolutionize Modern Architecture – BUSINESSWEEK
Classical music has more in common with pop than you might think, says a pop and classical loving teenager.
Classical Covers
– SMART SET
So much is said, especially in religion, about honouring your parents . What if a parent does not honour their child?
Honor Thy Child – Dr Michael Hurd, DAILY DOSE OF REASON
No wonder so many kids these days play freaking X-Box instead!
You have got to be freaking kidding me – Eric Crampton, OFFSETTING BEHAVIOUR
FFS. Quitting caffeine is now listed as a mental-health disorder..
A Coffee Withdrawal Diagnosis – Sumathi Reddy, WALL STREET JOURNAL
Come on, you can't tell me you haven't wondered.
Home Improvement Shows: How Real is Reality TV? – APARTMENT THERAPY
Ah, it gets worse every year, doesn't it?
The Pace of Modern Life – XKCD
And I can endorse them all!
5 books your high school graduate should read – DAILY CALLER
Is it a sign when books are being bought only for decoration instead of reading? 
Are Books Obsolete? Thoughts on the Printed Word – APARTMENT THERAPY
This from Ed Kuepper is for everyone still suffering from Electrical Storms.
See, this is just one reason it's still my favourite cafe. I walk into Middle East Cafe last night, and they're playing the very song that's already playing in my head.
The encore at last night's APO concert by pianist Tamara  Anna Cislowska was pretty damn good too.  Here's Rachmaninov playing the Rachmaninov she played. Try to picture it…
This, reportedly the most difficult piano piece ever written.
And this, the most gently lyrical?
[Hat tip Marginal Revolution, Noodle Food, Geek Press, Laissez Faire, Offsetting Behaviour,  Thrutch, Libertarian Alliance (UK), Oliver Cooper, Mike Hawke, Dr. Jamie Richards, Rohit Gupta, JWSpry, Greig McGill, Prodos, Andrew B.]
PS: Congratulations to everyone at Wellington's excellent Fork and Brewer Bar for the stonking review they received in The Herald. Well deserved. (And belated thanks for your hospitality on Anzac Weekend.)
My recommendation: If you're in the capital being lashed by weather, go and strap yourself in there for the duration.  I know I would.
Pub spy: Fork & Brewer, Wellington
Not being in Wellington myself, however, and since we approach the year's Darkest Day, I plan to track down some Garage Project "Dawn of the Dead," light the blue touch paper, sit back, and just see what happens.
Garage Project: Brewing to the beat of a different drummer – Neil Miller,MALTHOUSE BLOG
Enjoy your weekend.
PC