Portugal ended the War On Drugs, and the results are in
"Portugal Decriminalized All Drugs Eleven Years Ago And The Results Are Staggering: On July 1st, 2001, Portugal decriminalized every imaginable drug, from marijuana, to cocaine, to heroin. Some thought Lisbon would become a drug tourist haven, others predicted usage rates among youths to surge.  Eleven years later, it turns out they were both wrong."
The results are in, and they're clear:
a drastic reduction in addicts, with Portuguese officials and reports highlighting that this number, at 100,000 before the new policy was enacted, has been halved in the following ten years;
Portugal's drug usage rates are now among the lowest of EU member states;
a lot fewer sick people. Drug related diseases including STDs and overdoses have been reduced even more than usage rates.
What's more, criminal gangs are left without the windfall profits from drugs they enjoy in every other jurisdiction. "The worst thing that can happen to the gangsters and organized crime is for marijuana or other drugs to be legalized."
Freedom works. Prohibition still doesn't.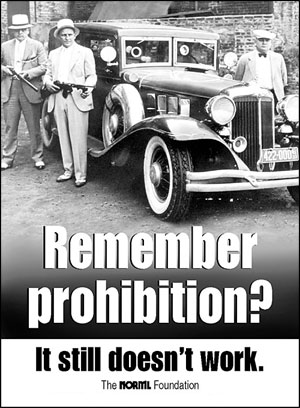 Labels: Prohibition, Victimless Crimes, War on Drugs