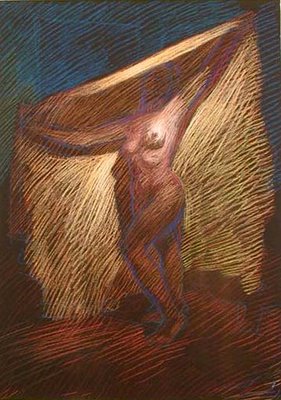 See in this mini-tutorial how artist Newberry goes step-by-step through one session with his model, sketching with pastel on dark paper.
Says Michael,
I love working pastel on dark paper for one important reason: the pastel being lighter than the paper directly creates a pure colored light... The idea is to gradually add light and color one tone at a time starting with those dark tones just one step lighter than the paper.
Read the whole mini-tut here, and get a feeling for how an artist approaches producing something like this in just one sitting.
LINK: Mini-tutorial:Pastel on dark paper - just add light - Newberry Workshop
TAGS: Art