In recent weeks, followers of the so-called Religion of Peace have slaughtered hundreds of innocents in Pakistan, in Kenya, and in Nigeria. And that's just in recent weeks--the litany of Islamist slaughter just in the last half-century alone is a long one.  Islam was born with a sword, and has a history soaked in blood. This guest post by Terry Verhoeven (right) explains why this is inevitable.
Islam isn't alone in its barbarism. Christendom has its own history of barbarous totalitarianism, from which it has since largely recovered—so why can't Islam have its own Enlightenment and become tempered, depoliticised and made compatible with civilisation just the same?
There are a number of reasons why I believe Islam cannot repeat the historic moment of the Christian West's Enlightenment, including these:
There is no hegemonic and centralised institution in Islam like the Roman Catholic Church, such an institution being conducive to a schismatic event like the Reformation, a schismatic event like the Reformation being conducive to an eventual Enlightenment;
There is no potential in Islam for a corruption scandal such as the one that ultimately triggered the Reformation, namely, the Church's then widespread practice of selling indulgences and issuing of papal dispensations for mortal sins, a practice made possible only because the Church's concept of atonement entails formal, ecclesiastical confession to a religious leader (by contrast, repenting to anyone besides Allah is forbidden in Islam, and Muslims deny the authority of men to listen to another person's confessions and then pronounce him forgiven of his sin);
There is no disagreement between the main Islamic sects on the essential details of Quranic Scripture, nor the performance that is required of Muslims to obtain (the opportunity to achieve) their own salvation;
Islam is not prone to schisms like Christendom has been. In fact, there has been no major schism in Islam for 1300+ years. Further, Islam's Sunni/Shia division, with its roots in the 700s, was not religious in origin but political, a division based solely on an argument over succession. Compare that record to Christendom's, where religious differences have divided the main body of Christendom every 500 years or so:
There is no new wave of Aristotelian (i.e., pro-reason) thinking being adopted and propagated by influential Muslim scholars as was the case in Christendom prior to the Enlightenment, the primary reason for their being an intellectual enlightenment at all.
    The 16th Century Christian egg, which had come to contain the double yolk of reason and faith (thanks to Thomas Aquinas' introduction of Aristotelianism to Christian thinking two centuries earlier) had to be broken in order for the secular omelette to be made, so to speak. If there is any new wave of thinking in Islam today, it almost certainly will be the same neo-Kantian one that the rest of the world has been riding for the last century and a half -- a wave than cannot lead to objectivity and reason, but only to (more) irrationality and rationalism;
Aristotelianism has already been introduced to Islam once before (during the 9th Century at the beginning of the Islamic Golden Age; indeed, it was the primary reason for Islam enjoying this golden age) but was after some period for the most part soundly rejected by Muslim scholars;
Unlike Christianity which has a this-worldly and anthropomorphic form of deity (Jesus) to worship, Islam, with its completely unknowable God, can, I submit, only ever be compatible with Platonic philosophies, which by their nature can never enjoy a this-worldly focus.
The real kicker though, and the primary reason why I believe that Islam can never experience an Enlightenment and be de-fanged as Christendom was, is because of the racially based totalitarian tribal mindset inherent to all Muslims qua Muslims1. Whereas Jews believe that their 'flock' (the Israelites) are only those who have descended from Abraham, Isaac and Jacob, and Christians do not care at all from whom their 'flock' is descended (anyone may be "reborn" a Christian – a Christian is never born as such), Muslims believe that their 'flock' comprises anyone who is descended from Adam and Eve2 and that every human being in existence is, was, and will be born a Muslim and so must worship and abide by their Islamic God's laws. That's right, according to Muslims you and I were born Muslim.
In essence, Islam is racial tribalism taken to its utmost extreme.
So, whereas Judaism is an exclusive by-invitation-only keep-it-in-the family ideology, and Christianity is an invite-yourself-in-whenever-you-are-ready ideology, Islam is a you-are-already-part-of-our-family-whether-you-like-it-or-not ideology. And the head of the family is a stern disciplinarian.
Again, whereas Judaism applies its ideology only to a small tribe (Jews) based on race and belief, and Christianity is not tribal or racial at all (it is essentially individualistic3 and open to everyone who chooses to join through faith), Islam considers the whole of humanity its racial tribe and subject to its rule and rules. Whereas Judaism claims no territory of its own other than its little patch (Israel), and Christianity claims no territory of its own per se (not in this life, anyway), Muslims claim every square inch of the planet Earth as exclusively belonging to Islam and the Ummah.
Islam thus takes the racial and tribal mindset of Judaism, strips out its racial and territorial exclusivity, adds the all-inclusive mindset of Christianity (but without its individualism and free-choice) and fuses those elements together to create an incendiary mixture of what is in effect an all-inclusive tribal mindset based on race.
It is a fusion of all the bad, with none of the good.
There is thus neither "opt-in" or "opt-out" in Islam. You are in whether you want to be or not.
Non-believers who wish to live amongst Muslims are (strictly speaking) required to either enter into a contract and submit to Islam's dictates as a serf called a "dhimmi" or be purged. "Dhimmi" in Arabic literally means "of the contract"; dhimmi are politically disenfranchised and subjugated to extortionate taxes that are used to pay for mosques and the expansion and defence of Islam (but, hey ... Islam is a "tolerant" religion Muslims tell us because their dhimmi are "free" to practice their own religion in private).
The Qur'an is crystal clear in its message to all Muslims: expand Adam's tribe and purge all infidels from that tribe, where an infidel is any person who does not submit to being Muslim or dhimmi. And that is precisely how Islam has been practiced all throughout history. The Qur'an instructs unequivocally that all Muslims have a duty to Allah to wage jihad (Holy War) against any oppressive force that does not permit Islam to be practiced by Muslims. As Muslims move to new lands, any attempt by infidels to prevent them from practicing and proselytising Islam becomes the grounds for waging "defensive" war. This is how jihad is seen and justified by Muslims.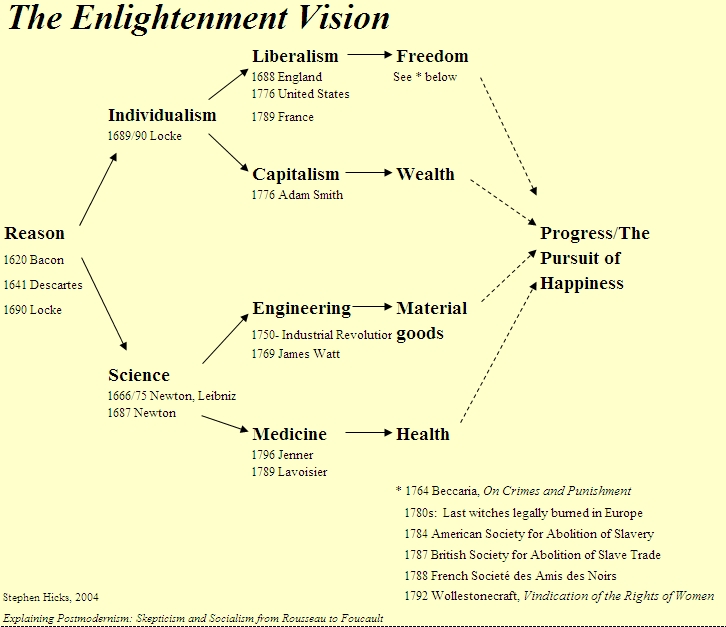 I submit that any ideology that explicitly, unmistakably and unabashedly proclaims that the rights of individuals should be sacrificed for some higher good, that prophesises and proselytises world domination, whether by violent or political means, is totally and completely incompatible with moderation or reason, or individualism, or freedom—in other words, incompatible with every single ingredient of the Enlightenment.
The only saving grace of the whole race-based tribalistic totalitarian shaboodle is that Islamic rulers are meant to allow non-Muslims to leave a Muslim conquered or controlled territory, if they choose (respectfully) not to submit to Islam's dictates, as Suleiman The Magnificent did with the Knights of Malta after he conquered Malta in 1522.
That right there is certainly a definite plus over the ideologies of the likes of the Nazis and Communists, who do not even let you emigrate if you don't want to submit. But not all Islamic rulers are so kind. (And it is at odds with the practice of the barbarians at Nairobi's Westgate Mall.) The Muslim's implicit mindset is and always will be that you can run but you can't hide.
As for those "progressive" "moderate" Muslim reformers preaching modernisation4, and their movement supposedly countering the Caliphists5 (who, in order to attain Muslim unification preach traditionalism and jihad by violent means), what must be noted here is that their movement is not an attempt at a schism, rather, it is about going about jihad in a more pragmatic way (that, right there, is the mark of neo-Kantianism). The Oxford Islamic Studies Online states that the (moderate) reform movement uses monotheism (tawhid) "as an organizing principle for human society and the basis of religious knowledge, history, metaphysics, aesthetics, and ethics, as well as social, economic and world order."
In other words, far from aiming at westernisation or advancing the cause of liberty within Islam, "moderate" Muslims want to streamline Islam's progress towards world domination by employing a strategy of increasing tolerance between Muslims and Muslims and their prospective dhimmi. "Progressive" Muslims have no qualms about adopting the material fruits of western culture but adopting western culture itself -- the cause of those fruits -- is anathema to them. Ummah population growth, infiltration of western nations and obtaining political power through the democratic process is seen by "moderate" "progressive" Muslims as being the most practical way to achieve an Islamic world given the challenges and obstacles and opportunities that are facing Islam today.
The difference between the traditional Muslim and the progressive Muslim is the difference between two mantras: "Creed is fixed, law is fixed" and "Creed is fixed, law is relative."  The "progressive", "liberal" or "moderate" Muslim takes the stance in other words that there is no negotiation on the idea that everyone is born Muslim and the whole human race has been commanded for the last time by Allah to submit to Him in accordance with what has been revealed to Muhammad and recorded in the Qur'an, but there may and should be negotiation on how to go about getting the world to ultimately submit to Islam. The traditionalist Caliphists are the Bolsheviks of our age, lusting for violent revolution in order to achieve global Sharia, while the moderate Muslims are the Fabian Socialists of our age, happy to bide their time and gain a political hegemony democratically (which, as it happens, is perfectly consistent with Qur'anic scripture), thanks to its large, growing and migrating population. In the past, global domination by democratic vote was never an option for Muslims because the Muslim population was never big enough to even contemplate it, nor were there opportunities in the past to infiltrate countries other than by conquest. With roughly half of the world's population growth between now and 2020 projected to be Muslim (according to Pew Research), and with the anti-discriminatory and more or less open door immigration policies of western welfare states inviting Muslim immigrants to enter and be paid as guests to practice and proselytise their creed, why should Muslims engage in traditional violent jihad when their ends can now , it seems, be achieved non-violently, sponsored and sanctioned by their very own prospective 'dhimmi' themselves?! This is the unspoken line of thinking of the typical moderate Muslim.
They are employing "reason" rather well, don't you think?
In summary, it needs to be understood that progressive Muslims differ to traditional Caliphists only as to their means, not to their ends: both ultimately desire Muslim unity and an Islamic planet. Make no mistake.
Turkey is a great example of what to expect of the "moderate" Muslim reformer's Fabianist route to Islamisation. After 90 years of secular military rule there, Turkey has gone from 13 million people in 1914, 81% of whom were Muslim under Ottoman rule, to 74 million today, 98% of whom are Muslim. There is not only no separation between religion and state in today's "secular" Turkey, there is tutelage of religion by the state. (When harvesting tax, all Turkish citizens are equal because the tax rate is not based on religion, but through the "Presidency of Religious Affairs" which has a budget over U.S. $2.5 billion in 2012, Turkish citizens are not all equal in the use of revenue because only Sunni Muslim worship is financed.
Turkish Muslims are still murdering people for apostasy. Are still beheading people in the name of Islam. And to protect their "honour".  There are even reports that the Turkish still selectively enforce the jizya tax.
After almost a century, the "slam" has demonstrably not been taken out of "Islam", even in the most "moderated" Islamic country on the planet.
In conclusion, the solution to the growing Islamic threat being faced by the West is not to continue with a policy of invitation and (attempted) integration as the UN would have western governments continue6. It is isolation. Western societies have absolutely nothing to gain from those who lust after imposing their medieval mysticism on others, even if it is by political machination and not violent revolution. A strategy of isolation will however be of no consequence without there first being a re-enlightenment by and re-liberation of the West itself.
Enter the ideas of Ayn Rand...
----------
1. This article employs the maxim attributed to Abraham Lincoln: "Just because you call a dog's tail a leg, that doesn't make the dog 5-legged". "Islam" in Arabic means "submit," "Muslim" is the past particle meaning "submitted," thus only a person who has submitted to the tenets of Islam and strives to practice the teachings of Mohammed can properly be said to be a Muslim. Approximately two thirds of the 1.6 billion self-proclaimed Muslims in the world qualify as actual Muslims according to that standard going by Pew Research surveys. It is to that two thirds that I refer when using the term "Muslim."
2. Little known to non-Muslims, the reason that Muslims are required to travel to Hajj in Mecca Saudi Arabia once during their life is in deference to Adam—who is held to be the first prophet, first Muslim, and the father of humanity. The Hajj pilgrimage is a show of solidarity between all Muslims whereby attendees perform a series of ritual acts symbolic of the the lives os Abraham and his wife, including their show of deference to Adam and Eve as the patriarch and matriarch of Islam. The Black Stone of the Kabba, an ancient meteorite, is believed by Muslims to have been sent down to Adam and Eve by God to show them where to build an altar after they repented for their sin of eating the forbidden fruit in the Garden of Eden. The Kabba is thus believed by Muslims to be the site of the first temple on Earth. Praying to and kissing or touching the Black Stone is the climax of the pilgrimage for Hajj-goers, because doing so is believed to be an expiation of one's sins. The black stone is claimed to have originally been white, but turned black from absorbing the effects of humanity's sins, Muslim tradition says.
3. Ayn Rand wrote "There is a great, basic contradiction in the teachings of Jesus. Jesus was one of the first great teachers to proclaim the basic principle of individualism -- the inviolate sanctity of man's soul, and the salvation of one's soul as one's first concern and highest goal; this means -- one's ego and the integrity of one's ego. But when it came to the next question, a code of ethics to observe for the salvation of one's soul -- (this means: what must one do in actual practice in order to save one's soul?) -- Jesus (or perhaps His interpreters) gave men a code of altruism, that is, a code which told them that in order to save one's soul, one must love or help or live for others. This means, the subordination of one's soul (or ego) to the wishes, desires or needs of others, which means the subordination of one's soul to the souls of others. This is a contradiction that cannot be resolved. This is why men have never succeeded in applying Christianity in practice, while they have preached it in theory for two thousand years. The reason of their failure was not men's natural depravity or hypocrisy, which is the superficial (and vicious) explanation usually given. The reason is that a contradiction cannot be made to work. That is why the history of Christianity has been a continuous civil war -- both literally (between sects and nations), and spiritually (within each man's soul)." [in a letter to Sylvia Austin dated July 9, 1946]
4. The Islamic world has the potential to be modernised, no doubt. It has been modernised once before, in the 9th-13th centuries during the period known as the Islamic Golden Age. But there has never been a Westernisation of Islam. Westernisation involves much more than coming up to speed with the latest industry, technology, science, healthcare and education. Western law, politics, economics, lifestyle, philosophy, values and language are all qualities that a society must adopt to be "westernised". To be westernised and enlightened are one and the same.
5. nowadays called "Islamists" by those who don't know better and are helping to excuse the meaning of Islam by using a term not meaning to signify typical Muslims for people who are merely practicing Islam as it has always been practiced. Learn about the history of the term here. "Caliphist" is my term for those traditional Muslims who seeks to unite the Ummah under one Caliphate, by violent means if necessary, as opposed to moderate or progressive Muslims who seek the mandate of the dhimmi first and so advocate for being voted into power democratically.
6. The egalitarian and multiculturalist policies being pushed upon its member states by the UN , like all UN policies, tacitly aims to denationalise nations. Denationalisation of nations is consistent with the UN's stated purpose of preventing wars between nations and removing economic and other inequalities from amongst the world's population (in other words, implementing international communism). The primary beneficiaries of this progressive denationalisation agenda is neither nations nor individuals, but the UN itself and the "one nation" that cannot be de-nationalised: Islam.
Terry Verhoeven is an Auckland businessman, and the founder of Inspirationz motivational art.
This post originally appeared at Lindsay Perigo's SoloPassion.Com.